WHAT WILL COME
In 2016, Sébastien Provencher and Julia B. Laperrière did a two week residency in Vienna, in the context of Impulstanz. Their research led to the presentation of BOX.In, a work in progress show at Festival Zone Homa in Montreal. Talking the human obsession of categorization as a starting point, and with a certain focus on gender and sexual identity as guiding lines, it was a protestation against boxes, labels, categories and other closed forms.
What will come is a continuation of this research, but tending towards a more abstract expression. A new aspect of the work is the use the physical principal of entropy as a research tool to address diversity. In 2018, three research periods are planned between Germany and Canada, and new international collaborators will join the work.
Production : Julia B. Laperrière & Sébastien Provencher
Partners : MAI/Montréal Arts Interculturels (CA), Fabrik Potsdam (DE), Lake Studios Berlin, La Serre Arts Vivants (CA), Théâtre de la Ville de Longueuil (CA)
Support : Conseil des Arts et des Lettres du Québec, Canada Arts Council, Lojiq
We acknowledge the support of the Canada Council for the Arts, which last year invested $153 million to bring the arts to Canadians throughout the country.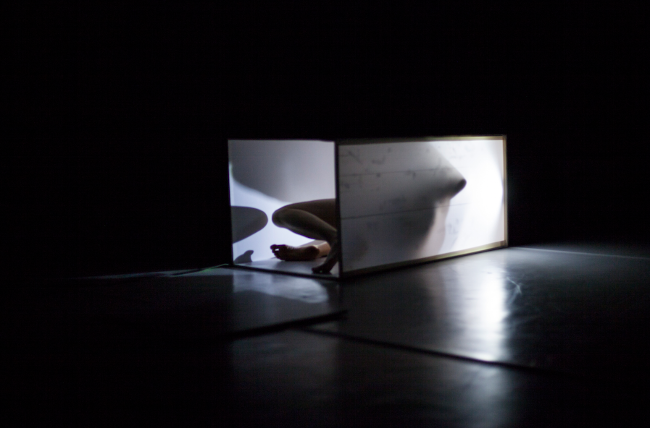 APRÈS LE DÉLUGE
En 2016, Julia B. Laperrière et Sébastien Provencher on fait ensemble une résidence de deux semaines à Vienne, dans le contexte du Festival Impulstanz. Cette courte recherche a mené à la présentation du work in progress BOX.In au Festival Zone Homa, à Montréal. BOX.In s'intéressait à l'obsession humaine de toujours vouloir tout mettre dans une boîte. Avec un certain focus sur le genre et l'identité sexuelle, c'était une protestation contre les boîtes, les labels, les catégories, les angles carrés et autres formes closes.
Après le déluge est une continuation de cette recherche, tendant vers une expression moins théâtrale. Un nouvel aspect du travail est l'intégration de la notion d'entropie comme outil de recherche et force de décatégorisation. En 2018, trois périodes de travail sont prévues entre le Canada et l'Allemagne, et de nouveaux collaborateurs internationaux se joindront au projet.